Description
Aluminess Rear Ladder | Tire Carrier for VS30 2019-2023 Mercedes Sprinter Van's
Whether you have an Aluminess roof rack or just a simple storage box, the Sprinter roofs are a great place to store bulky things. The problem is how you get up there to strap everything down.
Looking for VS30 Sprinter Rear Tire or Box Carriers Click Here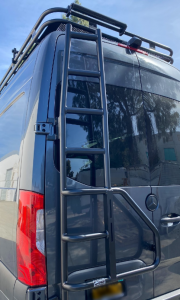 Aluminess solves this problem with their all-aluminum rear door ladder. This item bolts on using factory hardware inside of the door, No Drilling Required! Best of all, it works with both 180 and 270 hinges so there's no need to fuss with painting and swapping out hinges just to mount your ladder. Also included is an adjustable limiting strap so the door can stop at the desired location.
Click Here for Aluminess Ladder Installation Instructions
Need a box or tire with your ladder? Order the combo kit which comes with a mount for a box or tire and a set of sleek steps that allow you to climb up your ladder around the tire or box!
**DUALLY WHEEL REQUIRES CUSTOM ADAPTER BRACKET – PLEASE LET US KNOW IF YOU HAVE THE DUALLY WHEEL