Description
Amp Research Electric Power Running Boards 2019-2021 |2022-2023 Mercedes Sprinter Van Driver & Passenger Side
with heat boost or rear A/C available
AMP Research invented the PowerStep™, the automatic, electric-powered running board that instantly extends when you open your door, and retracts out of sight when the doors close for improved ground clearance, aerodynamics and appearance. Its sleek design, all-weather performance and legendary reliability set the industry standard. PowerStep™ has die-cast aluminum alloy components and precision stainless steel pivot pins for rock-solid stability. The original PowerStep™ is American designed and engineered.
California Residents: Prop 65
WARNING
  Mercedes Benz | Sprinter | 2019-2023
Getting into your truck shouldn't feel like climbing Mount Everest… That's why AMP Research invented POWERSTEP™, the automatic, electric-powered running board that instantly extends when you open your door and then hides safely out of sight when the doors close for improved ground clearance, aerodynamics, and appearance.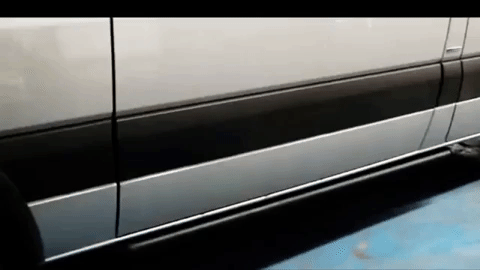 Features
Automatic Power-Deploying Running Boards
Low-Profile Integrated Led Light System – Standard
High-Strength, Die-Cast Aluminum-Alloy Components With An Anodized And Teflon®-Coated, Military-Spec Finish To Resist Corrosion
Precision Stainless-Steel Pivot Pins For Rock-Solid Stability. Maintenance-Free, Self Lubricating Bushings For All-Weather Performance
Extruded Aluminum Steps With Full-Length Internal Ribs For Rock-Solid Stiffness, Rigidity And Support With A High-Texture. Powder-Coat Finish For Maximum Grip And Durability
600 Pounds Load Capacity (Each Side)
Weatherproof, OEM-Quality Electric Motors, Drive System And Wiring Harness. Pressure-Sensitive, Pinch-Proof Safety Technology
Limited 5 Year Or 60,000 Mile Warranty
Note: The installation kit is not made by AMP running boards, we did our own research and specially manufactured the 2019 and 2020 installation kit. This product is still covered by the same warranty as other AMP running boards. 
Includes Mounting Bracket
: 
Yes – Universal-Fit Type
Mounting Location
: 
Frame Body Mount Bolts
Weight Capacity (LB)
: 
600 Pound
With Plug And Play Wiring Kit

:
No
Color/ Finish
: 
Black Textured Powder Coated
Its handsome design, all-weather performance, and legendary reliability set the industry standard. Its industry-leading 5 Year/60,000 Mile warranty. Invented, engineered and built in America, AMP Research PowerStep™ has been tested and proven in long-term, real-world, driving conditions performing flawlessly in snow, ice, dust, mud, and dirt. The lightweight, yet rock-solid running board and rugged die-cast linkage components are crafted in the USA of aircraft-quality aluminum, black-anodized and Teflon(R) coated for maximum corrosion protection. Precision, stainless-steel hinge points and bearings ensure trouble-free action. And the heavy-duty electric motor is designed and tested to provide reliable, maintenance-free operation for decades.
This is the first of its kind. The Sprinter Automatic Running Board Electric Step is the ultimate step for any heavy-duty conversion.
The Amp Research PowerStep is covered by a limited 5 Year warranty.
The distance from the interior floorboard to the top of the deployed step is approx. 10 inches.
Each kit includes one PowerStep for the passenger side and one for the driver side that covers the front and sliding door. This 79-inch step includes OEM style illumination, assembly with wire harness, electronic controller, mounting hardware and detailed installation guide.
If you are searching for a van that is versatile and gratifies anyone's taste, one that will carry passengers or cargo, the answer is the Mercedes Benz Sprinter and the Automatic Running Board Electric Step is the answer to your prayers. Just the name Mercedes rings a bell in most automotive owner's minds. Put that together with a vehicle that can carry over ten people or haul your cargo and the Mercedes Benz Sprinter comes out on top. It's a sure winner, manufactured in a sleek style so characteristic of the Mercedes brand. For example, the transport area is great for companies and the Mercedes Benz Sprinter Running Boards are second to none! The Sprinter is perfect for as an airport shuttle, luxury RV, commercial carrier, or cab chassis. The Mercedes Benz Sprinter is what large vehicles are all about; comfort, opulence, quality, and endurance.
Mercedes Benz Sprinter Design
In many ways, the structure of the Mercedes Benz Sprinter Automatic Running Boards adequately meets everyday requirements and goes beyond your assumptions in spite of a hefty base price tag. Everything a smaller Mercedes vehicle incorporates is integrated into the Mercedes Benz Sprinter. First of all, you have the three-pointed star facing the conventional grille and shortened hood. At the back of the legendary face is the center of the Mercedes Benz Sprinter power, a 3.0 liter V6 Bluetec diesel, supplying up to 188 horsepower with 325 lb-ft of rotating force while meeting the austere emission regulations established by the California Air Resources Board and the EPA. Whether deciding upon a regular roof with a brief wheelbase or the high roof resting on the long or short wheelbase, you will take pleasure in the ample space and outstanding capabilities.
Technology
Most of the technology in the Mercedes Benz Sprinter is committed to safety; nonetheless, an Audio 20 radio is on hand, a dual tuner, CD player with MP3 ability, CD changer and Bluetooth with a telephone keyboard. In order to maintain equilibrium, Mercedes has an ADESP, Adaptive Electronic Stability Program that operates with an ABS. Moreover, the Mercedes Benz Sprinter has skid ascendancy, electronic brake-force allocation, ESP Trailer Stability Assist and Brake Assist.
Beneath the hood, the 3.0 liter V6 is secured with up to the minute cognition. Fuel is distributed by way of high-tech universal rail technology and compressed through an inter-cooled turbocharger. After being lit, exhaust gases are cleansed with Bluetec; the Mercedes Benz privately owned SCR or Selective Catalytic Reduction utilizing AdBlue diesel exhaust liquid.
Possibly, the most noteworthy technology dividing the Mercedes Benz Sprinter Automatic Running Boards from other domestic vehicles is the idea in the back of the design. The uniqueness of merging everyday driving necessities with practical amenities is a true stroke of brilliance in the automotive world! The best in technological advancement is implemented while drivers and passengers carry on with everyday manual vehicle activity.