Description
Ridgestep /BHO / SCraft Running Boards 2pc Set for 2007-2023 Sprinter Van 2500 & 3500
High-strength, all-steel construction with no plastic parts
Angular design for a tough, no-nonsense look on hardworking Sprinter Vans
Stamped steel treads for a non-skid step that will never wear or crack
Flat profile and 6-1/2″ width provide a comfortable step
Textured black powder coat easily hides minor scratches and grime
Dual-layer E-coat and powder coat finish for maximum corrosion resistance
Welded steel end caps for a durable accent
VersaTrac mounting system for easy installation and Sprinter Van customization
Vehicle-specific application for a custom fit
Heavy-duty, powder-coated steel mounting brackets for a solid step
Limited lifetime warranty (three-year finish, one-year parts)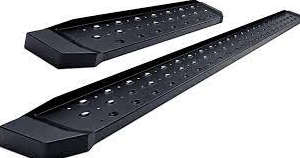 Note – Excluding Sprinter Van models with rear air conditioning
Please note that this item only ships free to the Contiguous United States. Does not include Hawaii, Alaska, or the other USA territories.
RidgeStep® running boards are some of the best running boards for worker cargo vans because they feature a tough, uncompromising construction and an aggressive style to complement the professional ride. RidgeStep® van running boards are made with an all-steel construction, raised steel treads, angular profile, angular end caps, durable finish and a no-nonsense installation.
RidgeStep® running boards are built entirely from steel to ensure maximum strength for tough jobs. They have no plastic parts, meaning they won't crack or fade over time. With each step up into your commercial van, you'll have a solid foothold and a rigid stepping surface for confident entry or exit.
The all-steel construction of these cargo van running boards is particularly advantageous for enhancing traction. RidgeSteps® are covered with protruding, circular, all-steel treads that lock onto your boots with each climb, regardless of wet or muddy conditions. Because the treads are made from steel, they won't wear down like plastic alternatives. The 6-1/2″ wide profile always provides reliable traction and a comfortable first step for the job ahead.
RidgeStep® running boards add a bold accent to your cargo van, featuring an angular design. The boards themselves are made with definitive edges, and the welded, angular end caps give them an aggressive, no-nonsense look. RidgeStep® running boards also feature integrated backsplashes along the inside edge, helping to protect the sides of your work van against gravel spray and other debris.
All ARIES RidgeStep® running boards are made for vehicle-specific application, using our VersaTrac® system. This set of RidgeStep® running boards is designed to fit specific years of the Dodge, Freightliner or Mercedes-Benz Sprinter 2500 and 3500 (see application info to verify fitment).
For rust resistance that can go the distance, these Sprinter running boards are crafted with a two-part finish. First, an E-coat is applied for an initial layer of rust resistance. Then, the E-coat is covered with a unique and highly durable textured black powder coat that further enhances corrosion resistance, as well as resilience to chipping and UV damage. This textured finish helps hide minor scuffs, scratches and grime and keeps your commercial van looking fresh and professional for the next challenge ahead.
62 COMPATIBLE Sprinters
| | | | |
| --- | --- | --- | --- |
| 2022 | Mercedes-Benz | Sprinter 2500 | Excluding models with rear air conditioning |
| 2022 | Mercedes-Benz | Sprinter 3500 | Excluding models with rear air conditioning |
| 2021 | Freightliner | Sprinter 2500 | Excluding models with rear air conditioning |
| 2021 | Freightliner | Sprinter 3500 | Excluding models with rear air conditioning |
| 2021 | Mercedes-Benz | Sprinter 2500 | Excluding models with rear air conditioning |
| 2021 | Mercedes-Benz | Sprinter 3500 | Excluding models with rear air conditioning |
| 2020 | Freightliner | Sprinter 2500 | Excluding models with rear air conditioning |
| 2020 | Freightliner | Sprinter 3500 | Excluding models with rear air conditioning |
| 2020 | Mercedes-Benz | Sprinter 2500 | Excluding models with rear air conditioning |
| 2020 | Mercedes-Benz | Sprinter 3500 | Excluding models with rear air conditioning |
| | | | |
| --- | --- | --- | --- |
| 2019 | Freightliner | Sprinter 2500 | Excluding models with rear air conditioning |
| 2019 | Freightliner | Sprinter 3500 | Excluding models with rear air conditioning |
| 2019 | Mercedes-Benz | Sprinter 2500 | Excluding models with rear air conditioning |
| 2019 | Mercedes-Benz | Sprinter 3500 | Excluding models with rear air conditioning |
| 2018 | Freightliner | Sprinter 2500 | Excluding models with rear air conditioning |
| 2018 | Freightliner | Sprinter 3500 | Excluding models with rear air conditioning |
| 2018 | Mercedes-Benz | Sprinter 2500 | Excluding models with rear air conditioning |
| 2018 | Mercedes-Benz | Sprinter 3500 | Excluding models with rear air conditioning |
| 2017 | Freightliner | Sprinter 2500 | Excluding models with rear air conditioning |
| 2017 | Freightliner | Sprinter 3500 | Excluding models with rear air conditioning |
| | | | |
| --- | --- | --- | --- |
| 2017 | Mercedes-Benz | Sprinter 2500 | Excluding models with rear air conditioning |
| 2017 | Mercedes-Benz | Sprinter 3500 | Excluding models with rear air conditioning |
| 2016 | Freightliner | Sprinter 2500 | Excluding models with rear air conditioning |
| 2016 | Freightliner | Sprinter 3500 | Excluding models with rear air conditioning |
| 2016 | Mercedes-Benz | Sprinter 2500 | Excluding models with rear air conditioning |
| 2016 | Mercedes-Benz | Sprinter 3500 | Excluding models with rear air conditioning |
| 2015 | Freightliner | Sprinter 2500 | Excluding models with rear air conditioning |
| 2015 | Freightliner | Sprinter 3500 | Excluding models with rear air conditioning |
| 2015 | Mercedes-Benz | Sprinter 2500 | Excluding models with rear air conditioning |
| 2015 | Mercedes-Benz | Sprinter 3500 | Excluding models with rear air conditioning |
| | | | |
| --- | --- | --- | --- |
| 2014 | Freightliner | Sprinter 2500 | Excluding models with rear air conditioning |
| 2014 | Freightliner | Sprinter 3500 | Excluding models with rear air conditioning |
| 2014 | Mercedes-Benz | Sprinter 2500 | Excluding models with rear air conditioning |
| 2014 | Mercedes-Benz | Sprinter 3500 | Excluding models with rear air conditioning |
| 2013 | Freightliner | Sprinter 2500 | Excluding models with rear air conditioning |
| 2013 | Freightliner | Sprinter 3500 | Excluding models with rear air conditioning |
| 2013 | Mercedes-Benz | Sprinter 2500 | Excluding models with rear air conditioning |
| 2013 | Mercedes-Benz | Sprinter 3500 | Excluding models with rear air conditioning |
| 2012 | Freightliner | Sprinter 2500 | Excluding models with rear air conditioning |
| 2012 | Freightliner | Sprinter 3500 | Excluding models with rear air conditioning |
| | | | |
| --- | --- | --- | --- |
| 2012 | Mercedes-Benz | Sprinter 2500 | Excluding models with rear air conditioning |
| 2012 | Mercedes-Benz | Sprinter 3500 | Excluding models with rear air conditioning |
| 2011 | Freightliner | Sprinter 2500 | Excluding models with rear air conditioning |
| 2011 | Freightliner | Sprinter 3500 | Excluding models with rear air conditioning |
| 2011 | Mercedes-Benz | Sprinter 2500 | Excluding models with rear air conditioning |
| 2011 | Mercedes-Benz | Sprinter 3500 | Excluding models with rear air conditioning |
| 2010 | Freightliner | Sprinter 2500 | Excluding models with rear air conditioning |
| 2010 | Freightliner | Sprinter 3500 | Excluding models with rear air conditioning |
| 2010 | Mercedes-Benz | Sprinter 2500 | Excluding models with rear air conditioning |
| 2010 | Mercedes-Benz | Sprinter 3500 | Excluding models with rear air conditioning |
| | | | |
| --- | --- | --- | --- |
| 2009 | Dodge | Sprinter 2500 | Excluding models with rear air conditioning |
| 2009 | Dodge | Sprinter 3500 | Excluding models with rear air conditioning |
| 2009 | Freightliner | Sprinter 2500 | Excluding models with rear air conditioning |
| 2009 | Freightliner | Sprinter 3500 | Excluding models with rear air conditioning |
| 2008 | Dodge | Sprinter 2500 | Excluding models with rear air conditioning |
| 2008 | Dodge | Sprinter 3500 | Excluding models with rear air conditioning |
| 2008 | Freightliner | Sprinter 2500 | Excluding models with rear air conditioning |
| 2008 | Freightliner | Sprinter 3500 | Excluding models with rear air conditioning |
| 2007 | Dodge | Sprinter 2500 | Excluding models with rear air conditioning |
| 2007 | Dodge | Sprinter 3500 | Excluding models with rear air conditioning |
| | | | |
| --- | --- | --- | --- |
| 2007 | Freightliner | Sprinter 2500 | Excluding models with rear air conditioning |
| 2007 | Freightliner | Sprinter 3500 | Excluding models with rear air conditioning |