Description
Monitor Your Mercedes Sprinter Van's Most Vital Systems in Real Time
ScanGaugeII can help you monitor your Mercedes Sprinter Van's most vital systems and provide the kind of real-time information you've been missing.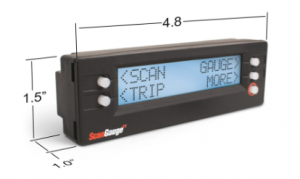 Features include more than 15 built-in digital gauges,5 sets of trip data and an easy-to-use Scan Tool that shows both set and pending trouble codes — all in an ultra compact design that installs in minutes.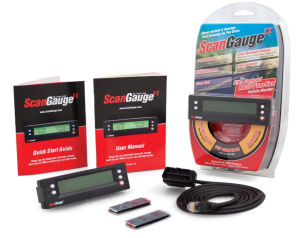 The ScanGaugeII is a simple but effective tool for monitoring your Mercedes Sprinter Van's .
It allows you to troubleshoot your Mercedes Sprinter Van's on your own by reading error codes and the conditions present when the error occurred. You can also reset the "Check Engine" light and avoid those costly trips to the mechanic or dealer. In addition, you can digitally monitor four parameters such as voltage, air intake temp or miles per gallon used. Other information like miles to go before empty or tracking fuel costs is also available. The ScanGaugeII plugs into the Mercedes Sprinter Van's OBDII data port using the data cable included and is portable allowing it to be moved from vehicle to vehicle.
The Add-A-Gauge feature will allow the user to add and monitor up to 12 additional parameters. These will be user defined and entered by programming the factory hexadecimal coding. Transmission temperature, ambient air temperature as well as oil pressure, oil temperature and more will be available for viewing. In addition, the user can daisy chain 2 or more ScanGauges together and view 8 or more parameters at one time! Currently, the factory hexadecimal coding is not available. However, we are working supply this information as soon as possible. When it is available we will post it for our customers.
View freeze frame information
Use and night with a Settable Backlight Display Color:
7 Standard screen colors and a custom setting with 63 possible colors.
Backlight for night use
Both display and keys backlit
User settable Off, Low and High
Big display – 50% larger than the original ScanGauge
Automatic Power Control:
Automatic delayed power-down after engine shutoff
Automatic power-up when engine is started
Easy Installation: No Tools Required!
Cable detachable at the ScanGaugeII. Can be connected on the back or side.
Easily move from vehicle to vehicle
Easy to Operate:
Simple on-screen operation
4 menu driven soft keys
A HOME key to quickly return to the start screen
User settable update rate (Slow, Normal and Fast)
Trip Computer: Automatically tracks four sets of trip data – Each with 11 individually stored parameters.
Maximum Speed
Average Speed
Maximum Coolant Temperature
Maximum RPM
Driving Time
Driving Distance
Fuel Used
Trip Fuel Economy
Fuel to Empty
Distance to Empty
Time to Empty
Digital Gauges: Display 4 gauges at once from the 12 built-in digital gauges, information is presented in Real-time!
Fuel Economy
Fuel Rate
Battery Voltage
Coolant Temperature
Intake Air Temperature
Engine Speed (RPM)
Vehicle speed (MPH)
Manifold Pressure (not available on some vehicles)
Engine Load
Throttle Position
Open/Closed Loop
Ignition Timing