Description
The Ford E-Series E150 | E250 | E350 3″ Lift Kit "Ocotillo Cruiser" allows you to level out your van and eliminate the stock stink bug appearance.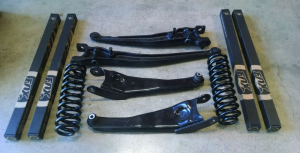 Are you looking to lift your Ford Econoline Van to run bigger tires? Tired of the boring factory appearance? Looking to improve driving performance? Your search is over……
Modified I-Beams and modified radius arms keep factory settings, while coupled with new coils and FOX shocks to drastically improve overall ride and performance.
Modified Radius Arms:
– Radius Arm/Radius arm brackets utilize stock mounting points
– Allows for tires 31″
***PLEASE READ CAREFULLY***
THERE IS AN ADDITIONAL $500 CORE CHARGE FEE ON ALL KITS THAT ARE SHIPPED/PICKED UP. This cost is not included in the price of the kit. You will be contacted after your online purchase to pay this core charge. The $500 is 100% refundable once we receive your old I-Beams back within 30 days. If an extension is needed please let us know. Customer is responsible for shipping costs associated with returning the I-Beam cores.
MODIFIED IBEAMS WITH MOOG PIVOT BUSHINGS – QTY 2
MODIFIED RADIUS ARMS – QTY 2
LIFT COILS – QTY 2
FOX PERFORMANCE SERIES 2.0 SMOOTH BODY IFP SHOCK QTY 4
2.0 BLOCKS – QTY 2
FORD E-SERIES U BOLTS – QTY 2
| YEAR | MAKE | MODEL |
| --- | --- | --- |
| 1992-2007 | FORD E-SERIES | E-150 | E-250 | E-350 |
| 2008-CURRENT | FORD E-SERIES | E-150 | E-250 | E-350 |
| | | | | | | | |
| --- | --- | --- | --- | --- | --- | --- | --- |
| 3″ FRONT | 2″ REAR | 6'' FRONT | 17X8.5, 17X9 | 8X6.5 | 4.75 | 0MM THROUGH -18 | 131 | 31'' – MODIFIED RADIUS ARMS |