Description
Looking for an easy-to-install DIY van interior? Look no further than Flarespace's Interior Panel Kit. This wall panel system features precut panels compatible with our Flares & Trim Rings, taking the guesswork out of your adventure van interior build. Most of the van wall solutions on the market lack rigidity, but the Flarespace Interior Panel Kit includes a structural steel component for a solid mounting surface that ensures a tight fit between ceiling and wall panels. That means cost-efficient, warp-free van interiors that'll last for years.
Download as panel kit diagram for your van
DETAILS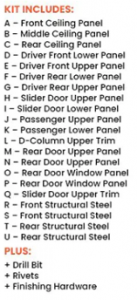 MATERIAL:
 1/4″ White Birch plywood with solid steel mounts
FINISH:
 Unprimed White Birch
COUNTRY OF ORIGIN:
 Proudly made in the USA.
WHAT'S INCLUDED:
 15 panels, 4 structural steel mounts, hardware, installation video.
PACKAGE WEIGHT:
 250 lbs; Delivered in custom crate on a pallet.
WARRANTY:
View warranty information here.
PRODUCTION TIMELINE:
 3-4 weeks for production, 1 week to ship.
Note:
 Flarespace's Interior Panel Kits are pre-cut to accommodate our Flares. So, if you don't have Flares in your van, you're going to need them. 
Shop Flares here
.
Why should I buy Flarespace's Interior Panel Kit for my van build?
Because it's awesome! This complete panel system takes the guesswork out of paneling the inside of your van. Simply order your kit, dry-fit the panels, trim them for the anomalies of your van, upholster, and install the final product.
How are Interior Panel Kits installed?
Pretty easily! You'll need to dry-fit the panels to ensure a perfect fit for your van, then simply take them back down, upholster, and put them back up! Sure, there's more to it than that, but your kit includes extensive installation videos & instructions. And if you have any further questions, just call us and we'll help you out!
How are Interior Panel Kits shipped?
The kits are heavy (250 lbs), shipped in a custom crate and delivered on a pallet to the address that you provide. Make sure you're accounting for a heavy package and pallet at your delivery location for a successful delivery.
Are there resources available to help me install the Interior Panel Kit on my van?
We have detailed DIY installation videos and extensive written instructions included with your Interior Panel Kit order. We're also always happy to answer questions directly – just shoot us an email at info@northwest-overland.com.
Does the Interior Panel Kit come with a warranty?
Flarespace offers a one-year limited warranty from the date of purchase on our Interior Panel Kit. Please refer to our full warranty disclaimer for further information.
Can I return my Interior Panel Kit after purchase?
All of our parts are made to order, and we, therefore, do not accept returns. Interior Panel Kits are shipped in custom packaging to ensure safe delivery. In the event that products are damaged during shipping, the customer is required to wait for inspection from the shipping company and take specific pictures of the damage to the part and packaging. Flarespace will not be responsible for repairing or replacing damaged Interior Panel Kits if an inspection doesn't occur. Please let us know immediately if Interior Panel Kits sustain damage during their time with the shipping company. Do not have parts repaired or dispose of packaging until the claim resolution process is finished.
Can you ship Interior Panel Kits internationally?
Flarespace utilizes ground shipping within the continental US (shipping charges calculated at checkout). International customers have successfully used freight forwarding companies to ship their Interior Panel Kit orders outside of the US. Carlile and Vanguard have export logistics centers in the US and assist with account setup and customs requirements. Flarespace will ship to one of these centers.